A Beginner's Guide to IP Ratings for Lighting Products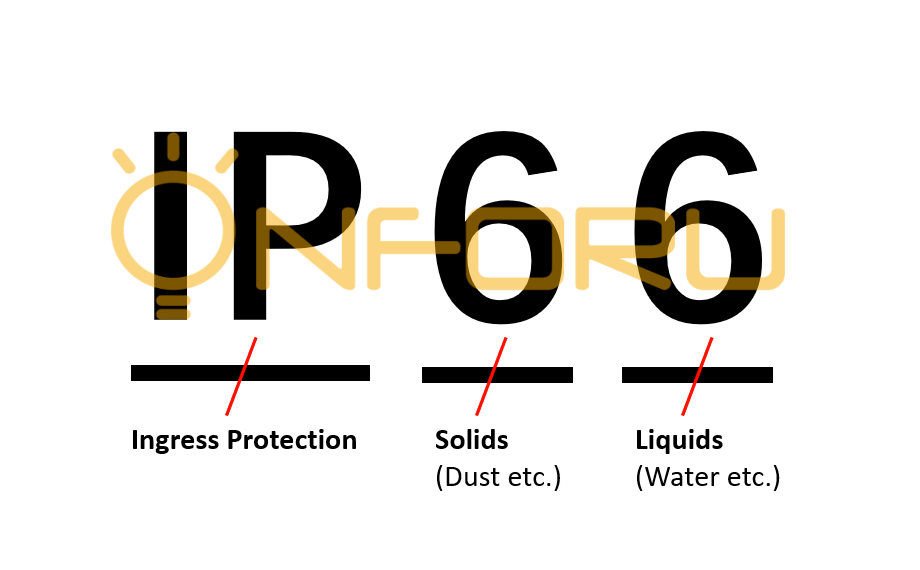 What is IP protection level and what does it mean?
Familiar with the international protection mark used to indicate the electrical enclosure's resistance to the ingress of harsh environmental solids and liquids.
The exterior elements protection rating (or IP rating) is the international standard (IEC 60529) for the degree of protection or sealing effectiveness of an electrical enclosure against the ingress of, or occasional contact with, objects, water, or dust.
IP ratings often contain the letters IP (exterior elements protection) followed by two digits and an optional letter. The two digits and the final letter indicate the following protection categories.
First Digit: Solids Protection
The first digit after IP indicates the level of protection for enclosed equipment that prevents solid foreign objects and human contact with hazardous parts such as electrical conductors.
IP Rating (Solids)

Size of Protected Objects

Protection Effectiveness

X

-

X indicates that no relevant data for the protection level is specified

O

No Protection

Inability to prevent object contact and entry

1

Diameter >50mm

The large surface area of the object(Unable to prevent intentional contact)

2

Diameter >12.5mm

Finger or similar items

3

Diameter >2.5mm

Tools, thick wires, etc.

4

Diameter >1mm

Most wires, screws, etc.

5

Dustproof (limited)

Limited dust ingress sufficient to cause damage to equipment in operation

6

Dustproof (complete)

No dust ingress

Complete protection against contact
Second Digit: Liquids Protection 
The second number after the IP in the code rating indicates the level of protection of the equipment by the waterproof case(water resistant). 
| | | |
| --- | --- | --- |
| IP Rating (Liquids) | Size of Protected Objects | Protection Effectiveness |
| X | - | X indicates that no relevant data for the protection level is specified |
| O | No Protection | Unable to prevent water ingress |
| 1 | Dripping water | Vertical dripping |
| 2 | Drip at slope < 15º | Vertical drip when the box tilt < 15º |
| 3 | Water spraying | Water spraying at an angle < 60º from the vertical position |
| 4 | Splashing | Can withstand water splashing from all directions. |
| 5 | Water jets | Withstand nozzles (6.3mm) spraying water from any direction |
| 6 | Powerful water jets | Withstand powerful nozzle spray (12.5mm nozzle) in any direction |
| 7 | Immersion depth ≤ 1m | immersion depth up to 1m |
| 8 | Immersion depth ≥ 1m | Immersion depth over 1m |
| 9K* | Powerful high-temperature water spray | Close range high pressure and high-temperature spraying |
Why do outdoor lights need different IP ratings?
Compared to indoor lights, lights installed outdoors can easily come into contact with a large number of external substances and objects. Therefore, for safety reasons, outdoor lights must have adequate protection to prevent damage to the light and, more importantly, to protect people from electric shock and injury.
When placed outdoors, your lights may be exposed to a variety of external forces, including accidental touching or stepping, intentional tampering, the accidental force from tools and shovels, wildlife activity, dust, dirt, and electrical wiring. Not to mention rain, wind, and water inundation. All of these elements can lead to damage and failure of outdoor lighting if the correct level of protection is not in place for the placement and contact elements.
For example, a standard street light will require adequate protection from physical forces and moderate water contact, but not protection from complete submersion. In contrast, pond or pool lights need protection from complete submersion but are less likely to come into regular contact with tools and other sharp objects. This is why the IP rating of outdoor lights will vary depending on their intended use.
What IP rating do I need for my outdoor lights?
Here are a few common outdoor luminaires to check for a specific IP rating
Standard Garden Lights
For path lights, up lights and tree lights, the IP rating should be IP44 or higher as a minimum. A "4" rating will ensure that your lights are protected from splash and strong water contact, while also protecting them from all kinds of physical contact with objects.
Deck and Patio Lights
Deck and patio lights require a higher level of protection as they are often stepped on and jet washed. an IP rating of at least IP65 should be achieved, which will protect your deck lighting from the highest levels of dust, harmful deposits and human contact.
This rating will also protect your lights from water jets so that you can jet wash your decks and patios without risking damage to the lights or accidental electrocution. Please check your instructions and if in doubt, do not jet wash your lights.
Water Lights
If you are lighting a pond, water feature or swimming pool, you will need to install lights with a minimum IP68 rating. This will ensure that your underwater lighting is low voltage, fully waterproof and able to withstand higher environmental stresses.
Conclusion
By following these basic guidelines for outdoor lighting IP ratings, your garden, yard or outdoor space is well protected and safe for lighting setup. Finally, you know what IP rating you need, so you can choose the lighting that's right for you.
More Resources
---
1 comment
---
---