🎄Christmas Light Decorations Ideas🎅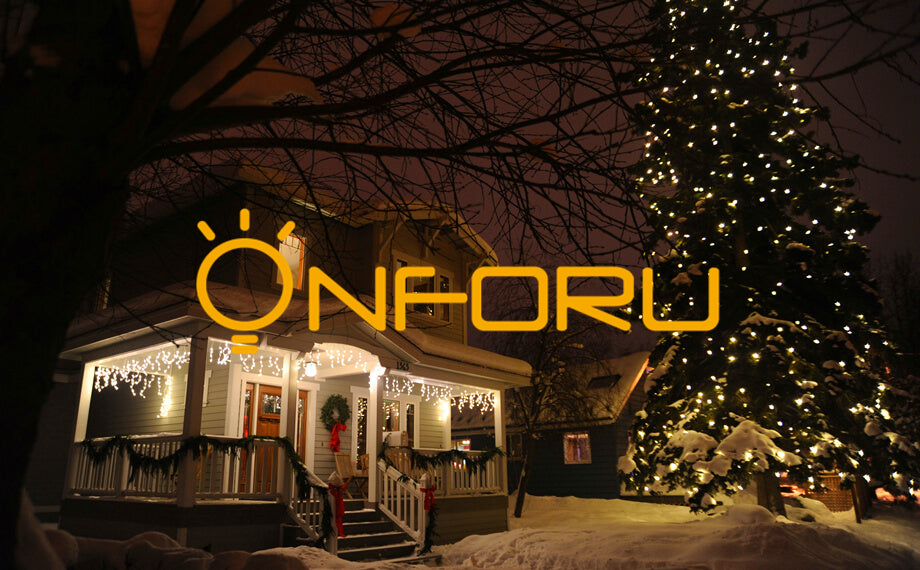 Christmas decorations are important to decorate the environment besides the interior of the home, the exterior of the house as well. Use lighting that can be decorated to create an ambiance of a romantic Christmas in the backyard of your home that will be admired by all who pass by.
At Onforu, we prepare some Christmas decoration materials shared by our users. This collection of charming ideas may inspire you to create turning your house or yard into a Christmas paradise, combining various lights to give off a magical ambiance that will make everyone feel the Christmas holiday atmosphere like never before, making it more memorable and enjoyable for everyone!
Classic outdoor Christmas decoration
Use the most popular RGB floodlights directly next to the house for a wall-washing effect. Use red and green, blue and white or a combination of red, white and green to create a cheerful holiday theme!
Of course, you can also just decorate the edges of the roof with
warm white strip lights
or
blue fairy lights
to make your house glow in its surroundings and the surrounding Christmas lights can blend in perfectly with the landscape.
Decorating with Christmas items
What cartoon characters do the children in your family like? Is it the kind Santa Claus, or the cute snowman, and of course the Christmas tree and the moose? Why not add some of your little ones' favorite Christmas decoration items to your yard to fill their memory books with Christmas cheer. Again, you can use lamps to decorate these cartoon characters, and string lights are a top choice not to be missed.
You can also light a tall tree and wrap the exterior of the home's fence with fairy lights, or a window, and the small amount of light illuminating the surroundings also adds a touch of understated beauty, turning the overall exterior of the home into a glowing Christmas wonderland.
After you've decorated your house exterior and your yard, it's time to go and enjoy the holiday glow. Using RGB flood lights, strip lights, or a collection of UV lights will allow you to create a nostalgic Christmas scene that will light up your home for the holidays and make your outdoor Christmas lights shine even brighter.✨✨
The 🎊Onforu 2022 Christmas sale🎉 is coming soon, so keep an eye on our promotion news. Or subscribe to us for the Onforu news and more discount offers!
---
16 comments
---
---