Halloween Celebrations: DIY Blacklight Halloween Decorations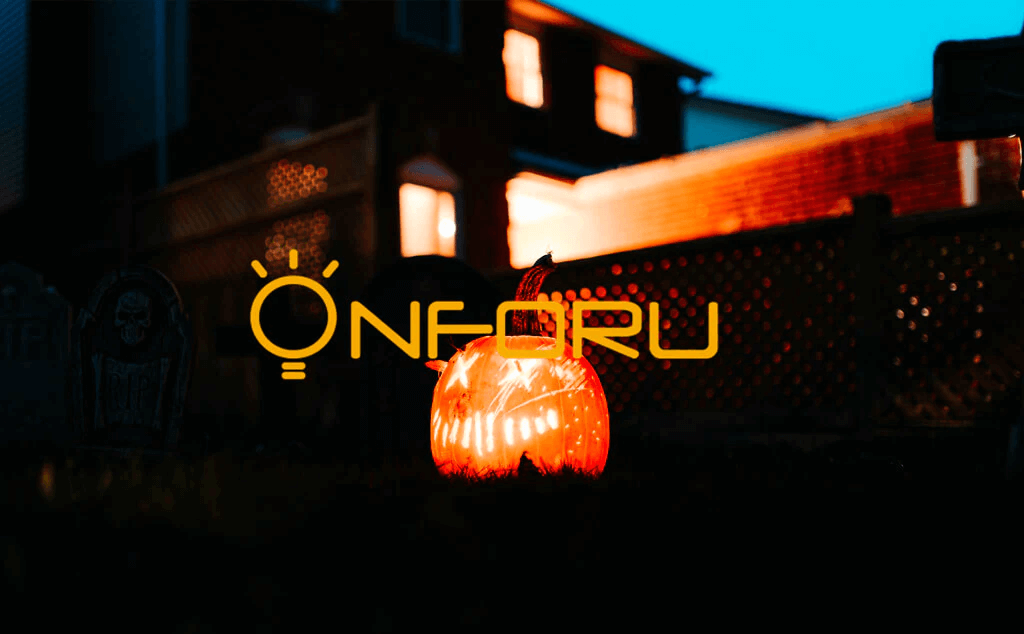 In this article, we will look at how to create stunning DIY Halloween decorations using Onforu's range of blacklights. We will cover the features and benefits of blacklighting, as well as provide tips and tricks on how to create creative decorations for your Halloween celebrations. In addition, we'll answer some frequently asked questions about blacklights to ensure you're able to make the most of these unique lighting fixtures to add to the mystical atmosphere of Halloween.
Halloween Blacklight Decorations
Halloween decorations play a key role in this season of shimmering mystery, and black light decorations have become an exciting and creative option. Black lights can transform ordinary decorations into mysterious, breathtaking fluorescent spectacles. You can create an exotic and unforgettable Halloween decoration when illuminated by Onforu's blacklight collection.
One of the features of black light decorations is its ability to illuminate fluorescent paints and fluorescent materials, causing them to give off a unique fluorescent effect at night. This magical effect makes your Halloween decorations even more eye-catching and interesting, whether it's for a family gathering or a party.
What's more, the black light is very flexible in its application. You can use it to light up all kinds of decorations, such as skulls decorated with fluorescent paint, spider webs, ghosts, and other creepy props. You can also create blacklight decorations indoors or outdoors to take your celebration to a whole new level.
Onforu's line of blacklights offers a wide range of models and sizes to suit every occasion. Whether you're decorating your own front yard or adding color to a child's Halloween party, you'll find the right blacklight in this collection. What's more, the high brightness and reliability of these fixtures gives you the peace of mind that you'll be able to enjoy stunning results without worrying about performance.
Halloween Pathway Lights
Halloween Stake Lights
How to Make a DIY Halloween Blacklight Costume
Make sure you have the following must-have items and steps when you start your DIY blacklight Halloween costume:
Essential Items
Onforu blacklight: First, you'll need to choose the right model and number of Onforu blacklights to suit the scale of your decorating project and the size of your venue.Onforu's line of blacklights offers a selection of different wattages and styles to suit a variety of needs.
Fluorescent paints and materials: Fluorescent paints, fluorescent coatings and fluorescent materials will be your key decorating materials. You can purchase these items at your local art supply store or online store. Make sure you shop for paints and materials with outstanding fluorescent effects for the best results.
Creativity, patience and fantasy: Most importantly, be prepared to be creative, patient and fantastical. The fluorescent effect of black lights can bring a unique visual impact to your décor, so indulge your creativity and design a variety of stunning patterns and decorations.
Steps
Draw or apply fluorescent paint: Use fluorescent paints to draw or paint patterns on white paper, cardboard, fabric or other decorative objects. You can draw a variety of shapes such as ghosts, witches, pumpkins, spider webs and more. Make sure to apply the paint evenly to get an even fluorescent effect.
Make fluorescent decorations: You can also use fluorescent materials to make various decorations such as fluorescent skulls, spiders, bats, and so on. These decorations will give a stunning effect under black light.
Place the black light: Place Onforu's blacklight around or over the decorated items to ensure they are illuminated. Blacklights give fluorescent paints and materials a unique fluorescent glow that will enhance your decor.
Admire the effect: Turn on the blacklight and admire the effect of your decor. Under the black light, the fluorescent paints and materials will glow brilliantly, adding a mysterious and impressive atmosphere to your Halloween celebration.
Onforu Blacklight Advantage
When you choose Onforu's range of blacklights for your DIY Halloween decorations, you'll get a range of significant advantages that will ensure your celebrations shine. Here are some more advantages of Onforu's blacklights:
High Brightness: Onforu's black lights offer an impressively high brightness, ensuring that your DIY decorations appear in vibrant fluorescent colors under black light. RELIABILITY: Onforu specializes in manufacturing high-quality LED lighting products with black lights that not only provide superior brightness, but also long-term stable performance.
Reliability: Onforu specializes in manufacturing high-quality LED lighting products with black lights that not only offer superior brightness, but also long-term stable performance. You can rely on these lights to light up your entire celebration without worrying about performance degradation or failure.
Easy to install: Onforu's line of blacklights are designed to be simple and easy to set up and use. There is no need for a complicated installation process or special skills. Simply plug them in, flip the switch, and you're instantly ready to enjoy breathtaking blacklight effects. This convenience makes it easier for you to create DIY decorations without spending too much time and effort.
Sustainability: Onforu takes the environment very seriously, which is why they use energy-efficient LED technology in the manufacture of their blacklights. This means that they provide excellent brightness while reducing energy consumption and minimizing the impact on the environment. By choosing Onforu's blacklights, you're not only giving your celebration a stunning visual effect, you're also contributing to the goal of sustainability.
Waterproof: Onforu's blacklights offer excellent waterproofing, often with an IP65 rating. This means they can operate reliably in all weather conditions, including rain. There's no need to worry about compromising your lighting due to wet or rainy weather, as these fixtures are carefully designed to withstand moisture and humidity.
Energy Efficient: Onforu's blacklights utilize advanced LED technology, which is known for its superior energy efficiency. Compared to traditional incandescent lights, LED fixtures are able to consume less energy while providing the same amount of brightness. This means you can enjoy a striking blacklight effect on Halloween without having to worry about a spike in your electric bill. They also don't produce excess heat, helping to maintain a comfortable indoor temperature, which is important when using them for extended periods of time.
Battery Powered Halloween Lights
FAQs of Halloween Blacklight
Q: What are the best occasions for black lights?
A: Blacklights are suitable for a variety of occasions, including Halloween celebrations, parties, nightclubs, escape games, decorative arts, visual effects shows, and more. They add mystery and entertainment to these events and occasions.
Q: Are black lights safe to use?
A: Yes, Onforu's blacklights are very safe to use as they utilize low radiation, low heat and low voltage LED technology. They do not generate excessive heat or emit harmful UV radiation.
Q: Do blacklights require special fluorescent pigments?
A: Typically, common fluorescent pigments and fluorescent paints can glow under black light. You can easily find these pigments and paints without special purchase.
Q: How long does a blacklight last?
A: Onforu's blacklights have a long lifespan, often up to tens of thousands of hours. They utilize a high-quality LED light source, resulting in excellent durability.
Q: How to better utilize black lights for Halloween decorations?
A: To make full use of black lights for Halloween decorations, you can choose white or fluorescent paints to paint and create fluorescent ghosts, spooks, cobwebs and other decorative items. In addition, you can also arrange blacklight decorations to enhance the Halloween atmosphere.
More Resourece
---