🎃Halloween Light Ideas to Increase the Holiday Atmosphere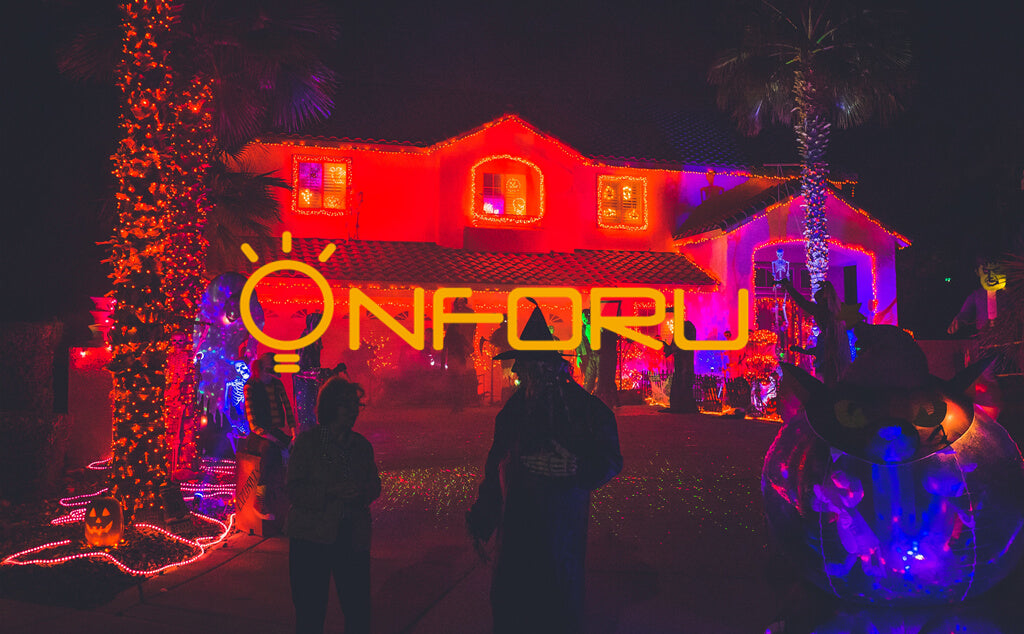 When it comes to Halloween theme colours, the traditional black and orange come to mind. Spiders, ghosts and pumpkin lights, the interweaving of black, orange, green and grey present a frightening scene.
From a Halloween perspective, these colour schemes are undoubtedly slightly eerie, but with the right lighting, the colours pumpkin and mysterious grey will be stunning even when used in the home, and the whole festive atmosphere of Halloween will be maximised.
There are many different kinds of Halloween home decorations, but next, we will give you our recommendations on what kind of lighting to use that will produce a different festive effect.
Use RGB Flood Light to enhance the overall ambience
The colour-changing RGB floodlights can provide bright light throughout the interior or exterior, or they can highlight specific colours depending on placement. And the colours can be changed at any time to provide a different feel for different locations.
For example, on Halloween, blue, green and purple lights tend to be creepy and spooky, while orange and red are more fiery, like pumpkins and flames. Aiming floodlights can make light-coloured props look like they are glowing in the dark.
When the house building is too large and extensive, the long strip floodlight can provide a good wall washing effect, with a longer and wider irradiated area than ordinary floodlights.
RGB Flood Light Ideas:
UV Black Light for a dark and grotesque atmosphere
At Halloween night, the purple light is always creepy and uncomfortable to approach
Halloween decorations are often in bright orange, neon green and white, all of which will be under black light fixtures in order to display an amazing colourful atmosphere, with all the usual fluorescent colours exaggerated and magnified.
The lights give off a spooky glow that will scare and impress all the trick-or-treaters in your neighbourhood. 
UV Black Light Ideas:
Fairy Light for detailed accents
Fairy lights are also most often used outdoors on Halloween, such as yard fences, trees or shrubs, pumpkin lights, etc. They provide a delightful glow and are perfect for this time of year. Attaching these fairy lights to fences, trees or shrubs can be a very effective way of finishing off a spooky Halloween atmosphere.
Fairy Light Ideas:
Light Strips for an eerie atmosphere
Have you tried placing UV light strips on skulls, or under tombstones, to make the atmosphere even spookier? Combining them with floodlights will really make your Halloween props stand out. It can be used to draw attention to the decoration of festive items such as a handmade ghost in your front yard or a replica tombstone near your fence. It can be used to maximise the horror of Halloween characters, walls and ceilings, plants and trees.
Light Strip Ideas:
If you want more inspiration for dressing up for Halloween Day, check out ONFORU's
Holiday Light Inspire
page and click on the images for more information on dressing up, so you can easily know which products to use for your costume.
ONFORU
Halloween Sale
is coming soon, you can subscribe us for the latest promotion sale and offers!
---
15 comments
---
---